One of the top reasons people leave their job is that they lack a sense of belonging in the workplace. Surveys show that over 40% of employees feel isolated within their organization.
The feeling of isolation many employees already felt deepened when the pandemic forced organizations to switch to remote work. As the pandemic wore on, many employees questioned how much their organization valued them. If employees didn't feel valued, they became a part of "The Great Resignation."
Though diversity, equity, inclusion, and belonging (DEI & B) initiatives have been a part of corporate culture for some time, they have become even more critical now. Organizations must show they value diversity and inclusion in meaningful ways to keep existing employees and attract new talent.
Have you Taken the First Steps?

Today, over 75% of organizations provide DEI & B education for their employees. According to ATD Research, around 40% of those organizations have launched a form of DEI & B training initiative in the past two years. The same research showed that over 30% of organizations tailored their training to different employee audiences.

When starting or continuing existing DEI & B initiatives within an organization, it is essential to understand what diversity, equity, inclusion, and belonging means:

Diversity represents individuals from all identities and backgrounds who offer varying experiences and perspectives.

Equity is fair treatment, access, opportunity, and advancement for all people, especially those belonging to groups that have historically experienced advancement barriers within the workplace.

Inclusion is all employees feel seen, heard, and accepted at work and that their different styles of communication, leadership, and ways of working are understood.

Belonging is the feeling of security and support one gets when there is a sense of acceptance, inclusion, and identity for a member of a particular group or place.

Organizations that understand the meanings of each aspect of DEI & B can create a clear vision and set of supporting values to build a diverse and inclusive culture. There are many benefits associated with successful DEI & B initiatives: potential sizable increases in employee productivity and innovation, less attrition, higher customer satisfaction, and increased financial performance. All these benefits lead to more significant competitive advantages for an organization.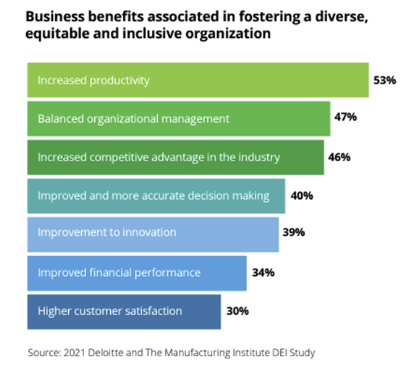 However, organizations may be hesitant to implement DEI & B initiatives because they don't know where to start or fear their actions could cause more harm than good. This hesitance and fear, however, should not cripple or prevent an organization's efforts toward building a more diverse and inclusive culture.

The award-winning inclusion strategist, Ruchika Tulshyan, said, "The intentionality piece of this puzzle can't be overstated. To cultivate a growth mindset towards inclusion, you can't possibly get everything right—and you won't—but it's necessary to keep trying."

If an initiative falls short, an organization must reach out to its employees for their input. For underrepresented employees, being asked for input can help them feel seen, leading to a greater sense of belonging.

If you are unsure where to begin, let United Learning Services partner with your organization as you build your DEI & B initiatives. We can help answer questions, identify gaps, and define milestones to help you build a thriving, diverse organization.